Customers are the focal point of any business whether it is retail, automotive, healthcare or transport and logistics. A valuable customer is recognized through the dedication they show towards the particular brand. This happens only when their customer journey is enhanced from start to end. Customers connect with the organization occurs at three levels; interact, engage and emotional connect.
Location-based advertising platform is a collaboration of services, marketing and analytics to empower brands, retail chains, malls and products with customer understanding.
LEAP Features
Location based services
Location controls to connect with your customers
» Assisted GPS
» Internal Positioning System
» Beacons
Registration
Hassle free registration for your customers
» Mobile
» Social
» QR Code
» RF ID
Profile
Map your customer according to your needs
» Customer Profile
» Retailer Profile
» Store Profile
» Product Profile
Promotions
Promote the right content with right context to your customers
» Deals
» Surveys
» In-product advertising
» Gamification
In-store Visibility
Showcase your stores and products to your customers on their mobile phones
» Photos
» Videos
» 360 degree View
Coupons
Send personalized & authenticated coupons to your consumers
» Text based Coupons
» OR Code Coupons
» Designed Coupons
Campaign Management
Create and execute your campaigns per store, product or brand
» Content Curator
» Track and trace
» Content Support
» Scheduled promotions
» Analytics
Lead Management
Manage your Marketing Quality Leads across various touch points
» Activity Tracking
» Communication management
» Data Security
Loyalty Management
Identify the brand loyal customers and reward them right
» Reward Management
» Community Connect
Marketing
Manage and monitor your marketing efforts and deliver a compelling customer experience
» Target based marketing
» Personalized marketing
» Proximity marketing
Engagement
Engage your customers through interactive ways of communication
» Gaming
» Interactive Videos
» AR Product Manuals
Chat
Connect your customers to their fellow sub-ordinate for a enhanced shopping experience
» Proximity Chat
» Community Chat
Integrations
Seamlessly Integrate your current systems with us
» Maps
» Payments
» ERP
» Email Platform and many
» more
Analytics
Understand your consumers according to your needs
» Demographic
» Visitor
» Feedback
» Location
Reports
Create reports as per your requirements and interact with data as you go in real time
» Demographic
» Visitor
» Location
Add-on Features
Add some extra features to the platform and travel ahead in the field of engagements & analytics
» AR | VR | AI
» 360 Degree Product View
» Digital Merchandising
» Social Listening
Admin
Manage the entire platform at in one go as per your business
» Store Management
» Campaign Management
» Product Management
» Asset Management
CORE MODULES
Location Based Services
Registration
Profile • Promotion
Coupon • Analytics
Reporting • Admin
Integration • Marketing
ADVANCED MODULES
CORE MODULES
+
In-Store
Campaign Management
Loyalty Management
Advanced Analytics
Customized Reporting
ENTERPRISE
Customized
the platform
as per your needs
Location based advertising platform For consumer goods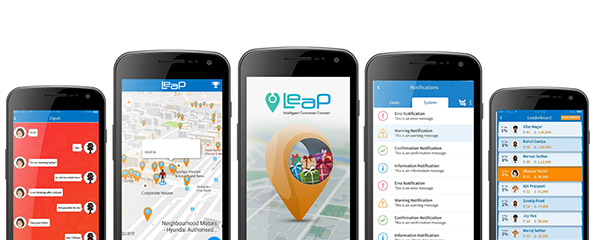 Real-Time Location Enabled Device Advertisement Platform
Location Based Advertising Platform for Consumer Goods
A custom platform - LEAP for 'Brands' to reach out to their end- consumers and establish a direct 'connect' with them. They can also run a proximity marketing campaign to keep consumers informed about the products, services, and actual special offers from each of the store departments.
Know more...